Ch. Diamondridge Da Vinci JW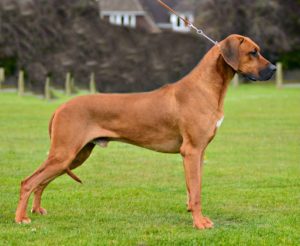 Born 16/10/2013 Hips 5:5 Elbows 0:0
JME Clear
Degenerative Mylopathy Clear
Liver Nose Gene Bb Carrier
Blue Dilute non Carrier
December 2016 Bred to Xalon of Malabo APD 3 puppies 2 bitches 1 dog, all correct, no ds, one liver nose dog.
February 2017 Bred to Diamondridge Dances with Picklebee 15 puppies born 10 bitches 5 dogs, one bitch born dead, all ridged, no ds, 3 with tail kinks.
Diamondridge Dimba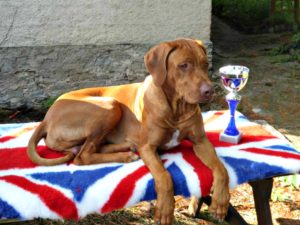 5 x CACS 5 x CACIB 6 x BOB
1st and Exc. at the France Nationale d'Elevage intermediate male class
Born 16/10/13  Hips: B Shoulders: 0 Elbows: 0
Liver nose BB
Weight: 45 kg Height: 70 cm Complete Dentition.
Dimba Lives in France his website is
Bred to  Tika (Shakiri) (Abos of Free Spirit x Akili of Free Spirit)
Dimba's First litter born 16 December 2016 in Holland (www.lionteasers.nl) 6 boys and 6 girls
Bred to Issaya by Baccarat du clos Bhakti (http://duclosbhakti.chiens-de-france.com/rhodesian-ridgeback) 8 boys and 6 girls