We obtained our first bitch in 1978 from Alex Dixon.  Karla  (Watersrand Wanda), her aunt was the bitch breed record holder of the time Ch. Matab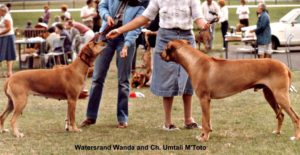 elle M'kangazi and her grandsire on both sides was that outstanding dog Ch. Kubwa Zuri Wazat, BOB Crufts '74 and '75. This dog carried American bloodlines and his progeny have been reintroduced into the line with success a number of times, he has been a profound influence.
Karla was to be a pet for the family but we always hoped that with her bloodlines we would be able to breed from her.  There have been many dogs that have come from our line but here we will mention the most noteworthy.
Mated to Ch. Umtali M'Toto, Karla produced litter brothers Diamondridge M'Kuki and Chokoza.  Diamondridge M'Kuki or Biko as he was known was purchased by Sue Campbell of the famous Nyassa Kennels and was her foundation dog and an excellent sire.  From a repeat mating we bred our first Champion, Ch. Diamondridge Uzuri of Asante who was owned Brian and Lil Stanley.  She was the first Champion to emanate from the successful Asante kennel.  Diamondridge M'Kuki and Chokoza mated to Rejan Tarka produced Ch. Shabani Mazoe in her first litter and Ch. Shabani Kana in her second.  These were the first two champions produced by this kennel.  Diamondridge M'Kuki also sired Ch. Tukela Shona who won the bitch CC at Crufts on two occasions with BOB in '96 and '98 when she was nearly 11.  She was the first champion for the Tukela kennel.   Sister to Chokoza, Kushika produced  our first homebred Champion, Ch. Diamondridge Daredevil.
It soon became apparent that we must introduce a bitch into the line and we obtained Voortrekker LyaPompa of Diamondridge who combined British, American and Rhodesian bloodlines.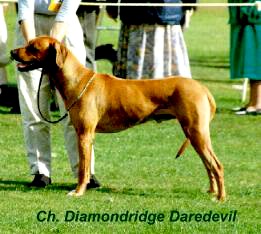 Daredevil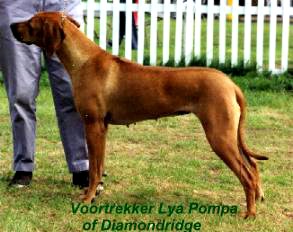 mated to her produced our outstanding brood bitch brood bitch Diamondridge Royal Gold, we cannot emphasise the influence this bitch had on the line.  She became a second foundation for us and was one of the Best Brood bitches of all time.  Her first litter to Ch. Tukela Umgaza at Sofala, produced Ch. Diamondridge Déjà vu who also won Best Bitch and CAC and CACIB at the French Club Show and was reserve Best Bitch at the RR Club of GB Golden Centenary show.
Next we took advantage of the Pet Passport scheme to take Diamondridge Royal Gold to Europe to mate.  This was the first time this was attempted in ridgebacks.  Her second litter was to the outstanding sire GB. Ch. Int. Nord. VDH. Ch. Aakemba King Astor Gi Fumo and we kept Ch. Diamondridge Desperado JW.  The other Champion progeny from this mating include  Int. Nord. Ch. Diamondridge Diplomat and  Ch. Ir. Ch. Diamondridge Dancing with Sofala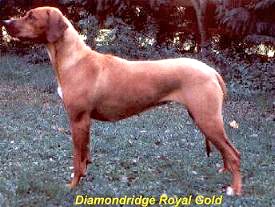 For her last mating we took Royal Gold to Denmark to mate Int. Nord. Fr. Ch. Ukukhanya Scout the Red Baron. We first met Scout when Lindsey judged the Swedish Club Show and were so impressed he went Best in Show.  The result, Ch. Diamondridge Donatello JW won 5CCs 2 with BOB. 1 with RBIS at a Breed Club Show, 4 RRCS including one at Crufts 2005.
From this foundation we have produced our latest Champion, Ch. Diamondridge Da Vinci JW who is a great grandson of Royal Gold.   A Royal Gold Great Grandson Ch. Diamondridge Bakari of Zebrariver was the first Champion for the Lobengula kennel and mated to our own bitch Diamondridge Prima Donna a Great Granddaughter has produced some lovely young dogs which are making good progress in the show-ring for their younger exhibitors and hopefully will be the foundations for more successful lines to come.
Following on the tradition of bringing in new lines we have brought a bitch in for Ch. Diamondridge Da Vinci to mate, Xalon of Malabo APD at Diamondridge who brings in fresh blood to Europe, her ancestry has a great track record of being Top Ridgebacks in the USA and winning the Westminster.  We are hoping for some successful progeny from this.
Breeding and showing is Lindsey's passion but most of our puppies become well loved pets, so if you are interested in having a beautiful, good-natured ridgeback for your home, please do not hesitate to contact us.
If you are looking for boarding for your dogs, please visit our boarding kennels site www.petresort.co.uk.